WELCOME AT THE HOMPAGE OF THE AVELIGNESE-STUD BY GERHARD LUEF!
Our first priority is a high-quality breeding including all related activities!
Another special interest is the training of young horses for coach and riding skills. Who is still undecided about what breed to buy, will surely get the "Avelignese-feever" when visiting us.
We also organize trips on horseback and in coaches in the wonderful environment of the "Bucklige Welt" (hunchback world), as well as for special events, such as weddings. We also offer boxes to loan.
The first step, right after the takeover of the parental farm in 1998, was to buy an Avelignese horse.
This breed is not only eye-catching, but also easy to take care about and has various possibilities to be used for.
The stud - placed in the "Leitenviertel" (slope district) - is ideal for this mountain-breed. Very steep slopes, with no flat place, this is the environment, the horses like to be in.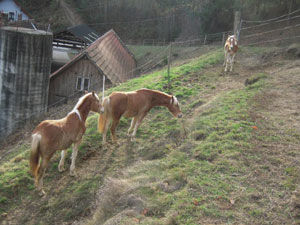 At numerous breeding-events we presented our sire, WILDPRINZ from Walddorf/Winterstein to the interested spectators.